We have heard that book collectors start as readers. Had you been studying a particular work by Maimonides when you began collecting?
RH: Let me start by saying that I never dreamed about exhibiting. I am an Orthodox Jew, a man of logic and reason, and many of the things I had been reading were a stretch to me until someone handed me a copy of the Rambam's Moreh Nevukhim (Guide of the Perplexed). This is a book that was made intentionally difficult to understand, so I started with a book written by Kenneth Seeskin, a professor at Northwestern. Then I had an "aha!" moment and decided I would try to tackle the real thing on my own. I would say that I am an amateur, not an academic, but there are many things written about it in English that gave me an opportunity to think about it on my own. Once it clicked in my head, it helped me synthesize faith and reason.
So how did the collecting start – what was the very first book you acquired?
RH: One of my good friends who is a collector of Judaica said to me, "I know you have an interest in the Rambam. Have you ever thought about owning a rare Rambam book?" He introduced me to a well-known dealer who showed me an Italian copy of Moreh Nevukhim from the 1450's or 1460's. It was in perfect shape and had one beautiful illumination. It also came with a high price. So I was put in touch with Menahem Schmelzer, z"l, the chief librarian of JTS's Judaica Collection, a wonderful person who spent time with me, a novice. I remember going to his office at JTS and he gave me a tour of the library and I just fell in love with these books because I was looking at living Jewish history. Dr. Schmelzer helped me authenticate the Italian Moreh Nevukhim and I was ignited with a passion. My friend warned me that I needed to be careful – this could become a serious addiction to books. But I said I was only interested in Rambam.
You have quite a number of Yemenite manuscripts. Is there a story behind that?
RH: Rambam had a remarkable relationship with the people of Yemen. They revered him. The Kapach family that goes back many years in Yemen were known for having manuscripts that have some different wording than manuscripts from other areas. Many people feel that the Yemenite manuscripts are the most authentic. Rav Kapach (Yosef Kafiḥ; 1917–2000) was a great Rambam scholar and had an extensive library, and after he passed, his wife, who was a tremendous baalat chessed (someone who epitomizes loving kindness), started selling some of the manuscripts. This first one I acquired, Sefer haMitzvos, was from 1492. Yemenite letters are bigger, bolder, and they use a red ink for some of the words that stayed vivid for 500 years in the hot, dry, climate. A chareidi scholar came to see the Sefer haMitzvos one day and was astounded to see some words that were different, and now understood it more clearly.
How did you and David Sclar (guest curator for the exhibition) meet, and when did you realize this would make a great exhibition?
RH: I met David a long time ago when he was an assistant at JTS library, a genuine researcher. He puts his heart and soul into it. He knew Dr. Schmelzer and was familiar with many of the booksellers. I decided that I should hire him every time I found something interesting in a particular book to do some more intense research. We became very close friends. Over the years, he said "Let's catalogue this!" I didn't realize, first, that I had amassed such a large grouping of Rambam books and second, that somebody might want to see it as an exhibition. I would exhibit them to my close friends and family. The very Orthodox would look at the books as "kedusha", holy. My more secular friends would understand the historical value. And then you get those who ask, "So how much was it?" I think it was Sharon Mintz who started the conversation about exhibiting the collection.
In your Collector's Preface to the exhibition catalogue, you mention the joys of exploring the collection with your children and grandchildren. How do you make Rambam relevant for young children?
RH: Many of my grandchildren live in Chicago and they come over a lot. You'd think that little kids would be bored by the Rambam books, but I am by nature someone who likes to tell stories. If you tell a story, that brings it to life for them. One of my grandsons is a Straus scholar who will be graduating from YU this year. He was my trusty assistant from a very young age because he was a strong kid – and books are heavy!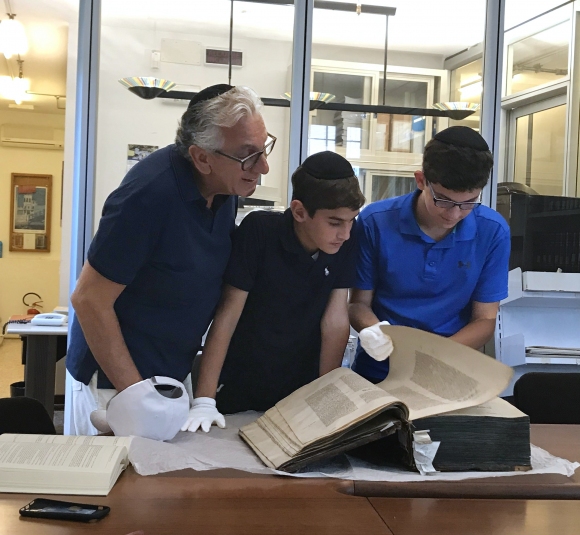 Robert Hartman with grandsons
The interview was conducted by Ilana Benson, YUM's Director of Museum Education, in April 2023.