Travel-related items in the YU Museum collection
With travel starting up again after pandemic restrictions, I would like to take you on a virtual trip to Israel, illustrated with objects from our collection. The trip will take a century. We will travel by multiple types of conveyance (train, ship, and plane), and bring back a variety of souvenirs.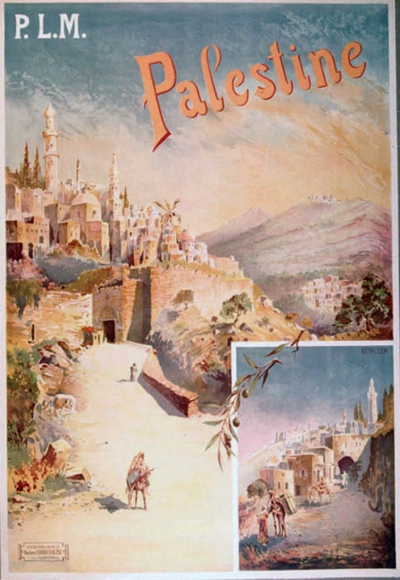 Poster advertising the P. L. M. railway company Publisher: Atelier F. Hugo d'Alesi Paris, 1898
We will start in 1893 on a train belonging to the Chemins de fer de Paris à Lyon et la Mediterranée, a French railway company that connected Paris and the French Riviera and beyond. They sponsored artists to travel to various destinations and create travel posters such as this one published by the studio of F. Hugo d'Alesi (1849-1906), an artist who produced many travel posters. Here, he depicted a gate in a city wall, with a person riding a donkey on the road leading to the viewer; a majestic mountain rises in the distance. Several thin towers may be intended to depict minarets. An inset view shows a gate in a wall leading to Bethlehem (identified in the inset), a man leading a laden camel walking towards the viewer. The artist conveys the age and (to his European viewers) exotic nature of the land and buildings. In common with other posters produced for this train line, our souvenir poster depicts the destination, not the train that will brought us to our destination.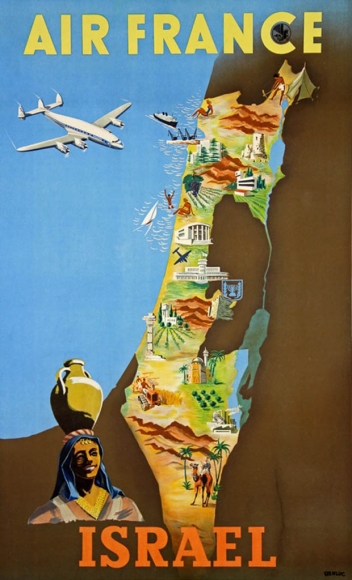 Poster advertising Air France flights to Israel by Renluc, 1951
For our next trip, we will fly Air France to Israel in 1951. Our souvenir is again a poster but this one, by Renluc, published by Hubert Balle, depicts our conveyance, an airplane, approaching a map of Israel. Buildings suggest cities one may visit. There are mountain ranges and tilled fields. An ocean liner approaches from the sea. Two outsize figures dabble their toes in the Mediterranean. Another figure is actually in the water. Its upstretched arms suggest fear of the sailboat that appears to be heading towards it.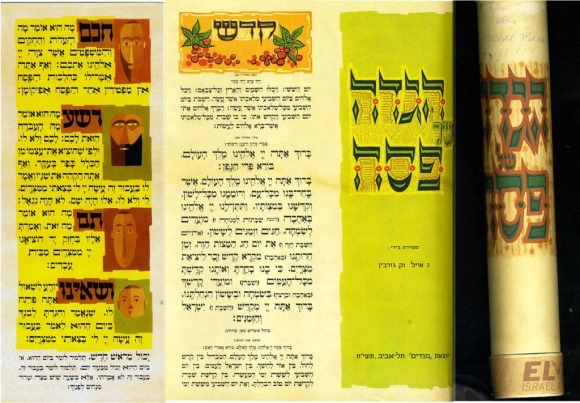 Passover Haggadah. Artist: Z. Eyal. Israel, 1958
We flew El Al in 1958. Since we flew First Class around the time of Passover, we received this scroll-form Passover Haggadah in a case, created by Z. Eyal and V. Gurvin for El Al.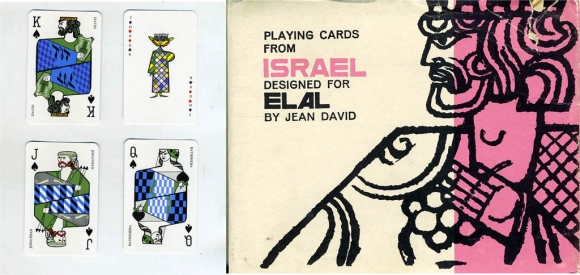 El Al playing cards by Jean David, Israel, ca. 1960
People on planes often whiled away the time playing cards, and airlines commissioned artists to design a box that could hold two decks of cards, and the cards themselves. Our souvenir cards were designed around 1960 for El Al by Jean David (1908-1993). As Zev Raban had done with his cards in the 1950s, David depicts Biblical figures as the court cards: King David is the King of Spades; Jonathan is the Jack of Spades; and Bathsheba is the Queen of Spades. However, while Raban depicted Asmodai (a demon) as the Joker, David does not identify his Joker. David also created posters for El Al and was one of the founders of the artists' village, ein Hod, along with Marcel Janco.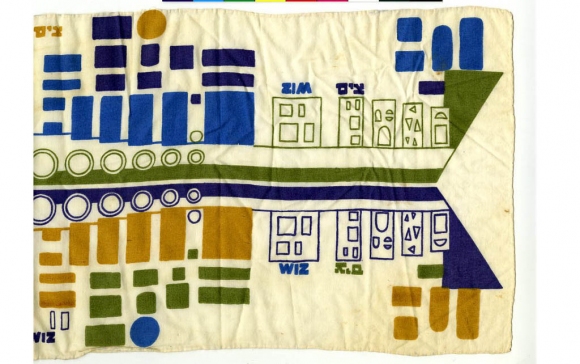 Scarf purchased on a Zim Line cruise, 1964, Gift of Miriam Akabas
Of course, planes may be faster, but the trip to Israel by sea is a vacation in itself. In 1964, a couple sailed the Zim Line from New York to Israel and picked up this lovely rectangular scarf depicting two Zim Line ships, keeel to keel. Unfortunately for them, their ship, the S.S. Shalom, accidentally hit a Norwegian tanker, the Stolt Dagali, and limped back to New York.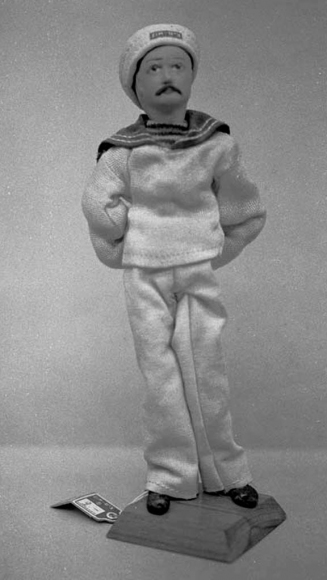 Doll depicting a Zim Line sailor, Pisanty, Israel, 1960s, gift of Charlene Newburg
The Israeli doll company, Pisanti, created ethnic dolls. They also made this charming Zim Line sailor, around the 1960s.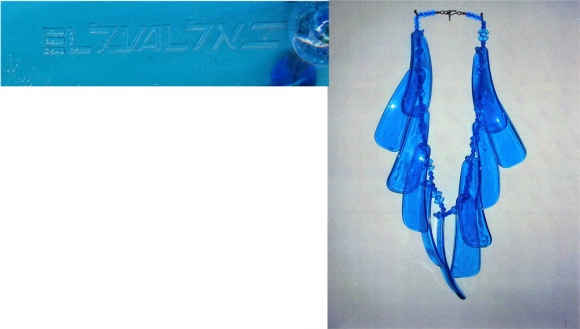 El Al First Class Shoehorns, Ita Aber, ca. 1975, gift of the artist
Artist Ita Aber flew El Al frequently in the 1970s. Around 1975, she told us, they gave First Class flyers a clear, blue plastic shoehorn stamped "El Al" as a useful souvenir. Being an artist, she added some beads and created this whimsical necklace.
I hope that you enjoyed these virtual trips to Israel, and the advertisements and souvenirs from travel to Israel. Enjoy your next in-person trip!