Summer Camps of Yesteryear
Since most summer camps are currently closed, I thought it might be refreshing to share some of the artifacts in our collection relating to summer experiences of the past.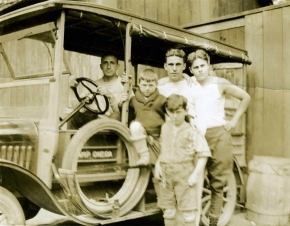 Laurence Goodstein and friends, Camp Oneida, Pennsylvania ca. 1915 gift of Dr. and Mrs. Laurence M. Lerner
This is the earliest camp item in our collection. It is a photograph of a bus with the words Camp Oneida on a panel below the driver. No one is smiling as this was still a time when posing for a photograph was serious business, and no photographer would have said "say cheese" to encourage smiles.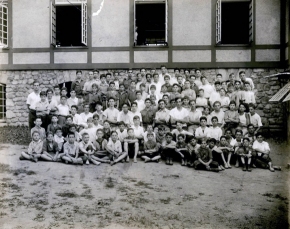 Laurence Goodstein and fellow campers, Surprise Lake Camp, 1917, gift of Dr. and Mrs. Laurence M. Lerner
Founded in 1902 by the Educational Alliance as a boy's camp, Surprise Lake Camp in Coldspring, New York, is one of the oldest Jewish summer camps in America. In 1917, the year this photograph was taken, the camp became part of the Federation of Jewish Philanthropies. It served Jewish boys from immigrant families of New York's Lower East Side, and, in addition to providing fresh air and wholesome activities, it aimed to make these boys more American.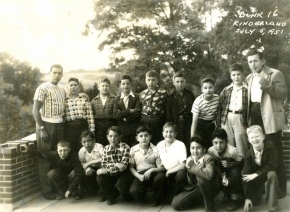 Laurence Lerner (kneeling second from right) and other members of Bunk 16, Camp Kinderland, 1951, gift of Dr. and Mrs. Laurence M. Lerner
Kamp Kinderland was located in in the Bershires in Tolland, Massachusetts. It was founded by members of the Workmen's Circle in 1923. Although its goal - to provide fresh air and activities for the children of working families - was similar to the goal of other early Jewish camps, this camp emphasized progressive causes including the labor movement.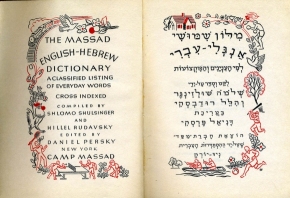 The Massad English-Hebrew Dictionary, 1947, gift of Joshua Hamerman
This English-Hebrew dictionary is from Camp Massad, which opened in 1941 in the Poconos.to serve New York children. It was the first camp to insist that campers use Hebrew for all daily activities, and some Hebrew words relating to sports are said to have originated at Camp Massad. The charming decorations of these title pages show stylized figures of campers involved in various activities including gardening, ping pong, and rowing.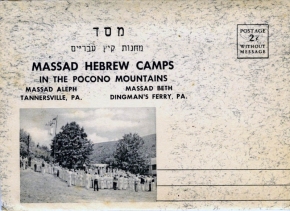 Camp Massad postcard collection, ca. 1947
The cover of this collection of postcards showing activities at Camp Massad Aleph in Tannersville and Camp Massad Beth in Dingman's Ferry, both in Pennsylvania, shows camps saluting the American flag. This is a reminder to all that, even though the campers speak Hebrew and celebrate their Jewishness, they are proud of their American identity.


Girls at Camp Allegro, 1994, gift of Charlene Newburg
Camp Allegro, a summer camp for girls, was located in Pittsfield, Massachusetts (in the Berkshires) until it closed around 1980. Former camper Charlene Obstfeld (Newburg) donated memorabilia from her days at Allegro, including postcards showing activities such as golf, volleyball tennis, and several group photographs of campers.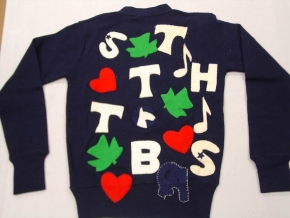 Sweater with Camp Allegro award patches, ca. 1944, gift of Charlene Newburg
Charlene Obstfelds' camp sweater bears badges she earned, including: a T for tennis; a horse's ehad for riding; an S with a star for swimming; leaves for nature study; hearts for fencing; and musical notes for music.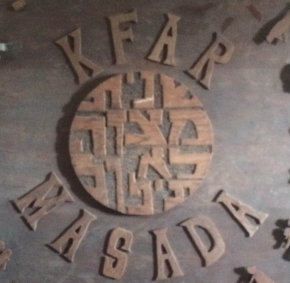 Detail of a wooden sign from the dining room at Camp Masada, 1970s, gift of Charles Quint
Kfar Masada, a co-ed summer camp, was founded in Rensselaerville, New York, in 1969 by the Zionist Federation of Long Island and the Zionist Organization of America. The camp was located at Triangle Lake in the Catskills. In addition to Zionist ideals, the camp stressed the importance of healthy exercise, both to counter the stereotype of the weakling/unathletic Jew, and to demonstrate the modernity and American values of parents who sent their children to this camp. One of the activities at this camp was woodworking, and campers recall the wall of the dining hall decorated with signs produced in the woodworking shop by winners of the summer color wars. The center of this sign bears a Hebrew inscription invoking the ancient Judaean fortress of Masada, and stating that this (Camp) Masada will not fall. Despite this proud boast, the camp closed around 1980.





Four glass lantern slides, Israel, 1930s, gift of Av Rivel
Finally, we recall Camp Cejwin in Port Jervis, New York, founded in 1918 by the Central Jewish Institute of New York. The goal of Cejwin and other Jewish camps founded in this early period wwas to provide fresh air and an experience of nature to Jewish children who were excluded from other summer camps because of their religion. Av Rivel donated a set of glass lantern slides used at Cejwin to familiarize campers with the people, places and accomplishment of Israel. These images include: notable figures such as Chaim Weizmann; a stunning night view of a Levant Fair in the 1930s, lit by electricity (top left); construction of the Rutenberg Electrical Plant in Ashkelon (top right); an early image of Beit Alpha Kibbutz (bottom left); happy young pioneers working in the fields, orange groves and vineyards; and a teacher introducing her class to Israeli flora during a nature walk (bottom right). Cejwin closed in the 1990s.