Passover 2016 by Bonni-Dara Michaels, Yeshiva University Museum's Collections Curator
The holiday of Passover brings to mind a variety of imagery – from Passovers long past and more recent, from famous works of art, from rare and familiar haggadot and book illustrations. We'd like to share a few Passover-related highlights from Yeshiva University Museum's collections.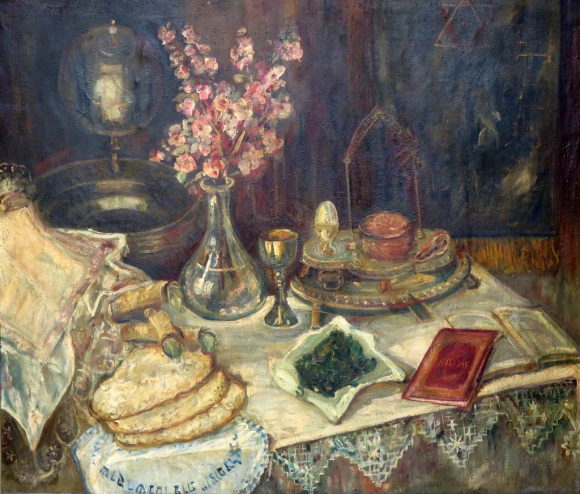 Passover. Artist: Mathilde H. Meyer. Germany, late 19th/early 20th century. Oil on canvas. Collection of University Museum. Gift of Hilda Meyer.
Mathilde Meyer was the wife of Rabbi Dr. Seligmann Meyer (1853-1925), district Rabbi of Regensburg. A talented academic painter, she created this Passover scene as one of a series of holiday-themed still lifes. Meyer included: a two-tiered seder plate with the ceremonial foods; a cup for Kiddush; an open haggadah and a closed haggadah; round matzahs and an embroidered matzah cover; and, at left, a pillow for reclining. The round matzah, in particular, reminds us of past traditions. The square matzah we commonly use today is a product of industrialization; it is faster and easier for a machine to cut squares!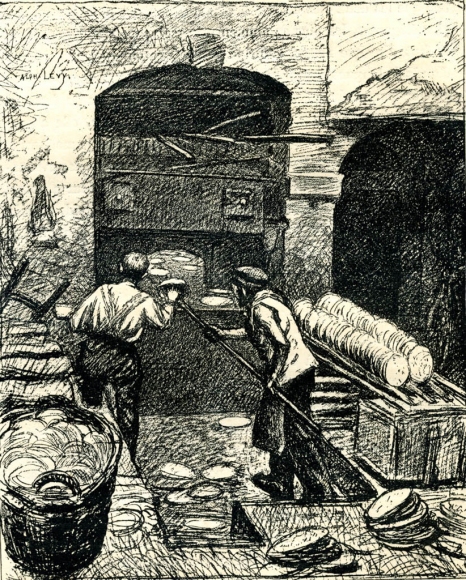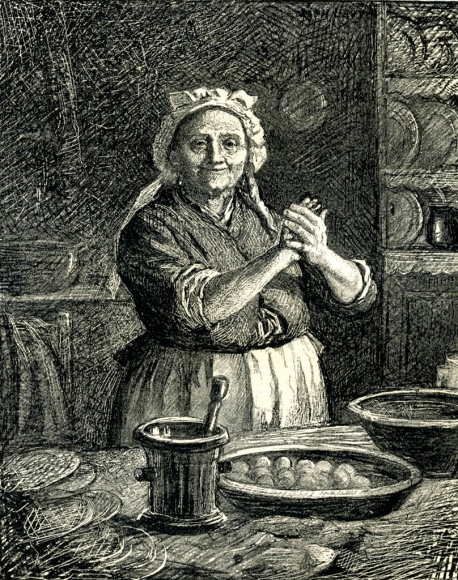 Baking Matzah and Making Matzah Balls from La Vie Juive (Jewish Life). Artist: Alphonse Levy. Author: David Leon Cahun. Paris, 1886. Collection of Yeshiva University Museum
Alphonse Levy included several Passover scenes in this 1886 book illustrating contemporary Jewish life. In one, two men, one holding a baker's peel, bake matzah in a huge oven. A second depicts a woman shaping matzah balls by hand.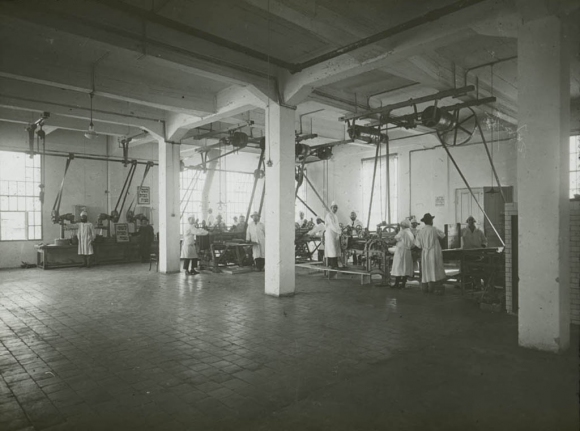 Matzah Factory. Israel, ca. 1930s. Glass lantern slide. Collection of Yeshiva University Museum. Gift of Av Rivel.
A glass lantern slide depicting the inside of a matzah factory in Israel was one of a group of lantern slides used at Cejwin Camps in Port Jervis, New York, to familiarize campers with Israel. Religious schools and day schools (still) take students to matzah factories to see how matzah is made and packaged.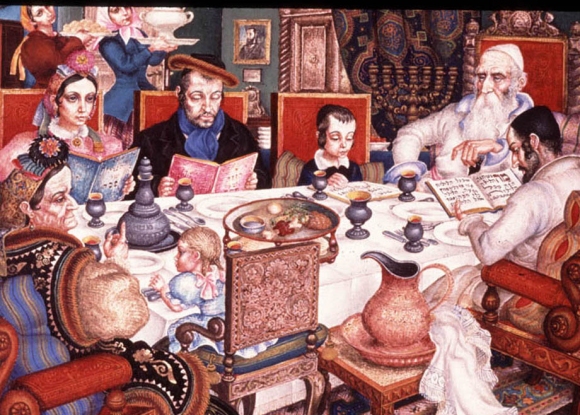 Passover. Arthur Szyk (1894-1951). New Canaan, 1948. Tempera and ink on paper. Collection of Yeshiva University Museum. Gift of Charles Frost.
Many people are familiar with Arthur Szyk's Passover scenes – especially from the well-known Szyk Haggadah – but he also painted this work as part of a series of holiday-themed works, which include Rosh Hashanah, Yom Kippur, Sukkot, Hanukkah and Purim. Part of the appeal of this and other holiday depictions by Szyk stem from viewers' nostalgia for the world of the shtetl – a world brutally destroyed by the Holocaust. Szyk might have based some of the details of this scene on the recollections of his childhood in Lodz – though not all of them. The artist indeed came from a middle-class family, not a poor one; but the opulent garments worn by the two seated women more closely resemble those worn by women in paintings by Lucas Cranach the Elder (1472-1553), a German Renaissance court painter and printmaker, than anything Szyk would have seen in Poland before he left for Paris with his family in 1921.