Miriam
This Passover, let's take a moment to consider a few items from our collection at Yeshiva University Museum relating to a relatively minor player in the Exodus story, who, in recent decades, has been brought a bit more to center stage: Miriam, sister of Moses and Aaron.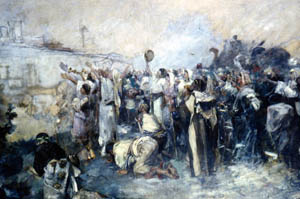 One of the earliest acquisitions to the collection is a painting titled Miriam's Song, by Samuel Hirszenberg (1865-1908). The Bible tells us that Miriam took a timbrel and led the women in music and dance after the crossing of the Red Sea. In Hirszenberg's depiction, Miriam stands at the center of the composition, a tambourine raised high above her head. The painting was left unfinished; the Egyptian city opposite the rejoicing crowd is only sketchily delineated.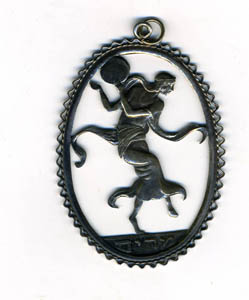 In this pendant designed by Ze'ev Raban, one of the key members of Israel's Bezalel art movement, and probably executed by Yemeni, a silversmith, around the 1940s, Miriam also raises a tambourine. But here she is exclusive focus of the work, caught in the middle of an energetic dance, one foot off the ground, her belt or scarf curving sinuously on both sides of her body.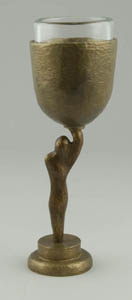 In the late 20th century, a Miriam cup filled with water became a popular addition to the Passover Seder table, highlighting the contribution of women to Jewish culture. Rashi, commenting on Numbers 20:2 (Ta'anith 9a) suggests that Miriam's well provided water to the Israelites in the desert for forty years from the time of the Exodus from Egypt. One such cup is Tobi Kahn's RKADH (1998), which takes the form of a woman holding aloft a tulip-shaped cup.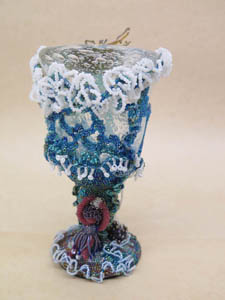 Fiber artist Ina Golub (1938-2015) also created a Miriam cup. Here, she used blue and white beads to suggest a foaming source of pure, fresh water so that Miriam's well itself seems to have become part of the Seder table.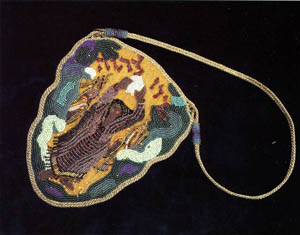 The final piece illustrated here is a beaded Torah shield depicting Miriam, also by Ina Golub. For centuries, the figures of Moses and Aaron have decorated Torah shields; here, Miriam takes their place. She holds a tambourine over her head and moves energetically.