Ina Golub at the YU Museum: In Memoriam
In 2013, fiber artist Ina Golub (1938-2015) offered part of her extensive archive of completed commissions (invoices, presentation boards, photographs) to Yeshiva University Museum. Since we had long been familiar with Ina's wonderful work and already had several of her pieces in our collection, we were delighted to accept these materials. Ina planned to continue working, but she promised to donate materials relating to ongoing and future projects when she retired. Sadly, Ina's life was cut short by cancer in October 2015. The remaining part of her archives, as well as a select group of her works, recently came to us; and so we are prompted to reflect on Ina's creative work and rich legacy.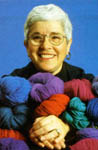 A few of the pieces we received are "old friends," exhibited as part of the 1996 retrospective we mounted titled Ina Golub: The Work of the Weaver in Colors. One of these works is the 1983 fiber sculpture "Let There Be," which demonstrates Ina's imaginative use of fiber arts to bring Biblical imagery to life.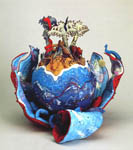 Let There Be, 1983
Ina's 1995 Torah shield, Miriam's Dance, also from that exhibition, captures the feminist spirit in much of her work. It depicts an active, triumphant Miriam dancing to celebrate the crossing of the Red Sea, very different from the more common artistic usual Western depictions representations of Miriam's younger brothers, Moses and Aaron, passively holding a staff or censer. Another important aspect of this shield is Ina's fine Hebrew calligraphy.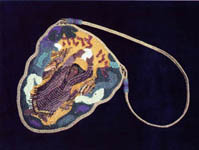 Miriam's Dance, 1995
The archival material is wonderfully revealing about these and other commissions and about Ina's working process and approach to art in general. In addition to contracts and financial documents, it includes preparatory materials, including this early 1970s presentation board for a Torah mantle for Adath Joseph in St. Joseph, Missouri. This presentation includes a sketch of the mantle, samples of the wool fibers Ina would use to create the mantle, and an explanation of the iconography.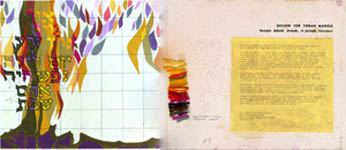 Adath Joseph Torah mantle presentation
Also included in the gift are items Ina created in other media, reflecting her diversity and virtuosity. Among these is a group of ceramic mezuzot, such as this one, which brings to mind the form of a woman draped in a Japanese kimono.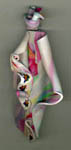 Mezuzzah
And there are personal and familial works, including this portrait of Ina's husband, Herbert Golub (d. 2010), a concert pianist and Kean University music professor.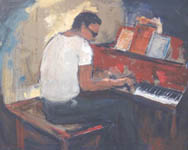 Portrait of Herbert Golub
Ina's passing leaves us without this richly talented artist and exuberant and warm friend. We are buoyed that the works and archive with which she entrusted us will enlighten and provide inspiration to visitors and researchers for many years to come. May her memory and creativity live on.