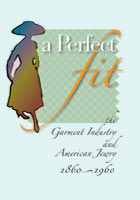 EXHIBITION HIGHLIGHTS

1860 America: An Expanding Nation
The mid-19th century brought enormous change to the American economy. The nation's frontiers were rapidly expanding as canals and railroads created new trade and communication networks. Industrialization was spurred by numerous new inventions, and developing technologies radically transformed cities and towns across the growing nation. With the advent of the sewing machine and subsequent technological innovations, the garment industry catapulted into a new phase of mass manufacture.

Dressing Men / Dressing Women
Men's and women's garment industries have distinct traditions and were industrialized differently. Large-scale and highly rationalized menswear factories created quality, long-enduring "two-pants suits" for American consumers. But, American womenswear is characterized by ever-changing hemlines and by a turbulent, quick-paced industry marked by fierce competition, design innovation and rapid knock-offs

A Tale of Six Cities: Urban Garment Centers
In the wake of the Civil War, German Jews came to dominate the menswear industry. Although New York City remained the center of production, the westward migration of Jews and other Americans established a widening network of Jewish manufacturing centers in smaller cities, such as Rochester and Cincinnati.

The menswear industry provided a model for the expansion of mass manufacturing of women's clothing after 1860. The women's industry grew three times as fast as the men's during the last decade of the 19th century, and many of the two million Eastern European Jewish immigrants who came to America between 1880 and 1920 moved directly into the expanding garment industry.

Eastern European Immigrants
Between 1880 and 1920, more than 2 million Jews came to America, primarily from Eastern Europe. They came to escape persecution in their home countries and to take advantage of greater economic opportunity here. In Europe, many of these immigrants had worked as artisans, factory laborers, and small-scale entrepreneurs. These skills would become important assets in their new home.

The garment industry was an important aspect of Eastern European Jewish immigrant life in New York and other urban centers; it helped knit the community together. The concentration of so many Yiddish-speaking garment workers engendered a wealth of literary, theatrical, and musical works on themes related to the industry.

Surging Forward:
Manufacturing American Style
By 1900, the average working family could be completely outfitted in ready-made clothing. Distribution was handled through a network of department stores and shops across the country. Department stores offered a huge range of goods to a broad spectrum of shoppers. Special sales, giveaways, newspaper advertisements and window displays helped entice customers to urban stores. Mail order catalogues offered an array of products to consumers in smaller towns and rural areas.

In addition, the garment industry played a crucial role in the early achievements of the American labor movement. Many of the rights that American workers take for granted today were first won by the garment unions; concepts like arbitration and collective bargaining emerged out of their struggles. The unions were also pioneers in developing workers' education and cultural opportunities, as well as access to healthcare.

West Coast Fashion
The West Coast's clothing industry evolved from early commercial efforts of Jewish pioneer merchants. In the fluid economy of Gold Rush California, enterprising Jewish businessmen were able to move easily between merchandising and manufacturing, many producing much sought-after durable men's work clothes.

In the early 20th century, New York was the center of the film as well as the fashion industry, but after World War I, the West Coast played a more important role in both film and fashion. Hollywood became the center of world movie production and distribution, and the California garment industry, inspired by film fashion, began to have a more pronounced influence on American fashion in general. As the California garment industry expanded, it increasingly promoted a California lifestyle based on the car, the beach, and outdoor recreational activity. This lifestyle, along with the sunny climate, had a lasting influence on American casual fashion and culture.

Clothing a Nation at War
World War II influenced the American fashion industry in fundamental ways. With limited access to Parisian tastemakers, American designers and manufacturers could no longer look to Europe for inspiration, and American designers came to the fore. It was then that the American fashion industry truly came of age.

In addition, many manufacturers converted their plants to wartime production, patriotically filling the nation's need for uniforms, parachutes, and other fabric products. Women joined the armed forces in unprecedented numbers, requiring uniforms as well, and large numbers of women also entered the workforce. Women factory workers needed sturdy work clothes, and pants became commonplace.

Clothing Everyone
During the first decades of the 20th century, Jewish immigrants from Eastern Europe built the New York-based garment business into a billion-dollar-a-year industry. After World War II, American prosperity resulted in an abundance of affordable consumer goods, from clothing to household appliances. Every sector of the garment industry expanded, with particular post-War booms in bridal, maternity and infant wear.

Accessories—including footwear, handbags, gloves, belts, hats, and jewelry— always constituted an important sector of the fashion business, and the accessories industry was often closely linked to the manufacture of women's apparel.

Fashioning Community
With so many American Jews involved in all facets of the garment industry – as owners, workers and labor leaders – there was a unique symbiosis between the industry and Jewish life. For many American Jews, family relationships, wholesale and retail connections, economic success and communal philanthropy were all interconnected. For much of the 20th century, the American Jewish calendar was punctuated not only by Rosh Hashanah and Passover, but also by buyers' weeks and the new season's inventory.

In the first decades of the 20th century, American Jews had numerous opportunities to blend into American society. The garment industry provided a setting in which they could comfortably be identified as Jews, while still achieving economic mobility. Jews in the industry socialized together in both work and personal life. Charity and communal support are fundamental precepts of Judaism, and the economic success of American Jewish garment industry leaders enabled them to become active contributors to local and world Jewish religious and charitable organizations.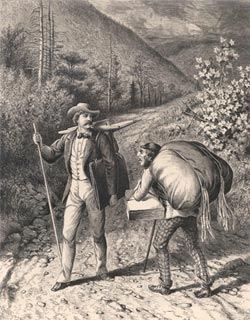 "Vot Doesh You Peddles," The Aldine, Artist: W.M. Cary, ca. 1867
National Museum of American Jewish History, Philadelphia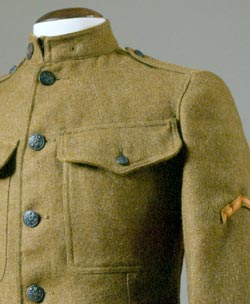 World War I U.S. Army Uniform, Henry Sonneborn & Co., ca. 1917-1918
Jewish Museum of Maryland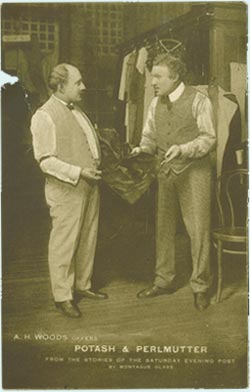 Advertising Postcard, "A. H. Woods presents Potash and Perlmutter…now playing at the Geo. M. Cohen Theatre," ca. 1913
National Museum of American Jewish History, Philadelphia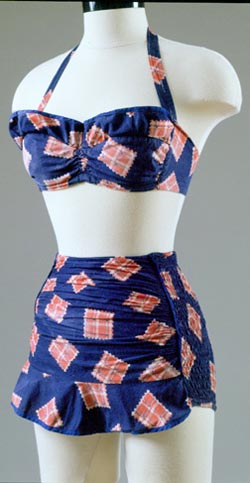 Swim Suit, Cole of California, ca. 1945
Yeshiva University Museum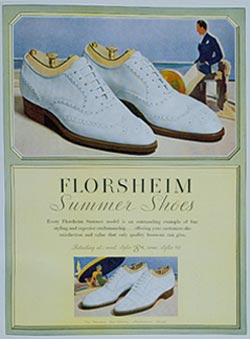 Advertisement: Florsheim Shoes, Apparel Arts, Summer 1934, Special Collections,
Gladys Marcus Library at the Fashion Institute of Technology